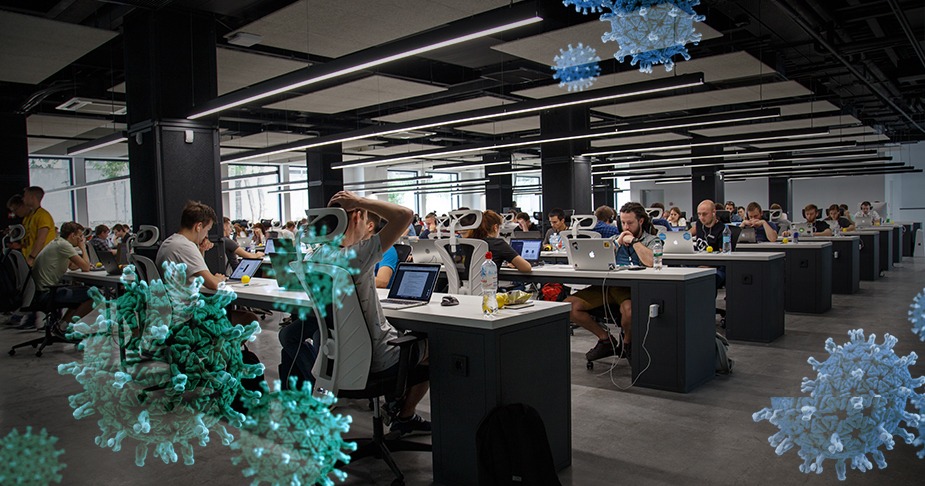 How will design react to Covid -19 across all sectors?
How will design react to Covid -19 across all sectors?
Designers all over the world are already changing and adapting their methods in relation to the Covid-19 pandemic. At S+SA, we are constantly creating new ways to think outside the box so we can compete within a new world where social distance and the need for space and light is key.
Below we explore some of the key areas that will need to be addressed and considered by designers as a reaction to the effects Covid-19, and the ways in which architects will need to adapt their methods in order to remain at the forefront of future design.
Office and Work
While for some people working from home will become a thing of the past as office workers are phased back to the office, many are looking at a permanent change to the way offices are seen in the future. Big tech companies such as Facebook, Microsoft and Google have announced that all employees will have the ability to work remotely going forward. The question we see most being raised is, is there a place for the office in the future? We think there is, but it might be that many companies take a hot-desk approach with some elements of remote working retained. As part of a recent office project, we created flexible space to allow the Client flexibility in layout and orientation, so that during the return to work period they were able to easily amend the office to allow for sectional offices and enhanced social distancing. There have been clear advantages for both employees and the environment as part of remote working but the need for social interaction and collaboration, in particular for us as Architects, is key to the progress of our projects.
Residential
Many people have spent a considerable amount of time at home during the pandemic, and they've had time to think more about the limitations of their home and ways they could improve it. Future clients may have a much clearer idea of how they want their new space to work, but equally, clients may be put off by certain designs if they don't see them as spacious enough, bearing in mind the idea we could return to a lockdown in the future, so people want their homes to be ready for this.
We have already seen residential developers starting to adjust their vision to include dedicated WFH space, which ranges from individual studies and home offices to expanding bedroom or living spaces to allow for desks along both in conjunction with ensuring IT and power infrastructure has home working in mind. Residential developments we are currently working on are looking at creating clusters or courtyard developments which look to develop the sense of community we have seen throughout the pandemic – gone are the days when you don't speak to or in some cases even know your neighbours! We are social beings and that sense of community can be influenced by a developments layout.
Urban Design
 Buildings can make us more aware of the ways in which we are globally connected. The impact of the pandemic on urbanism will be implemented a lot faster than design plans, and buildings such as cafes and restaurants have already set up tables outside in many areas, with closed streets becoming open to facilitate social distancing and keep businesses running. The pandemic has resulted in most of us looking much closer to home to get out doors. Our proposals have always looked to create public open space within the master planning of sites both creating space of plays and relaxation. In the future this element will become even more important, and our response is the Pocket Park. Several Pocket Parks can be intertwined in the layout of  a development to create variations in public and private space throughout the community. We see the Pocket Parks working well in the future to compliment a spacious central "village green".
Retail
Whilst it was clear that home delivery was starting to take over the high street for consumers' main source of goods, the pandemic has expedited the process and we have seen a huge surge in the need for logistical developments not just for the likes of Amazon but also on a smaller scale we are seeing an increase in starter units for smaller companies we perhaps would have seen on the high street. With the loss of some key players in our high street over the recent months serious thought is needed into the use of redundant inner city retail architecture. As with the office, we believe there will always be a place for the high street within town centres with a focus on small boutiques. The pandemic has also had a huge effect on the way restaurants, bars and eateries can operate. Even when they were allowed to remain open, establishments had to adjust the way they ran their business in line with the government's rules. Some restaurants have adopted mandatory temperature checks at their entrances while seating has become limited and spaced out to keep customers a safe distance away from one another. Whether these temporary design modifications will remain after the pandemic remains uncertain, but architects will certainly need to be aware of these measures at planning stage.
Construction
One of the areas of future design that will see a significant boost is modular construction – the need to design and build fast in emergency situations. The NHS has already had to react quickly when faced with a healthcare industry that continues to be overwhelmed. The demand for the construction of new facilities such as the Nightingale hospitals, quarantine testing sites, vaccination hubs and temporary lodgings have all been high, and designers have had to work quickly to react to the country's growing needs. Buildings continue to be assembled quickly through prefabricated modules whereby the building technique is fast, flexible and less wasteful than a traditional building. As the country adapts to a post-pandemic world, it is likely that the quick and flexible nature of this type of construction could have plenty of use outside of the medical industry. Adaptive reuse, the process of adapting existing buildings for new purposes, is another design approach that has proved popular throughout the pandemic and it remains an efficient and sustainable way of creating new spaces, in particular emergency facilities.
In a post-pandemic world, the future remains bright for architecture providing firms are willing to think outside the box and adapt to a changing environment where the need for social distance, health and well-being have become key factors in architectural design.